— Blogi
The link between different international projects of Educational Centre is the vision of a European future, where everyone can be heard and treated equally:
In addition, Think Tank Visio is involved in three projects concerning just transition; metal supply in sustainable energy transition; and universal basic income.

These same themes are also directly revertable to our strategy (2019-2023), which states, as early on as in the foreword, that we will "recognise groups, that are threatened to stay in the margins, and create opportunities for them to reinforce their agency; simultaneously increasing the impact and visibility in all of our activities." The leading themes of the strategy are viable environment and diverse nature; hopeful future and just transition; social cohesion and restraining of polarization; and functional civil society and democracy.

The big global phenomena that currently concern the lives of pretty much every single person on Earth, remind us concretely how intertwined the humankind (and other living creatures) actually are. The world has grown smaller in the course of our shared challenges as well as the development of, for example and foremost, technology. We in Visio find it both inspirational and necessary to work across national borders, exchange experiences and share knowledge, combine the different perspectives and strengths in creation of a future of hope. It is particularly important for our organisation, because our whole existence is based on fostering a more sustainable future and global solidarity – both goals that cross all sorts of borders, tangible and intangible.

During the days of remote meetings that we currently live, it has been interesting to notice how much alike us Europeans are in all of our variety! On the screen, projected by web cameras and using the same language (often a second language for many participants), the differences between us dim, and the common charasteristics and thoughts are highlighted. It feels like the national borders dim simultaneously, and the rhythm of the collaboration is reformed: it intensifies, even. Something of this time would be useful in the post-corona world of collaboration!

---
Key figures from international / European activities of Visio: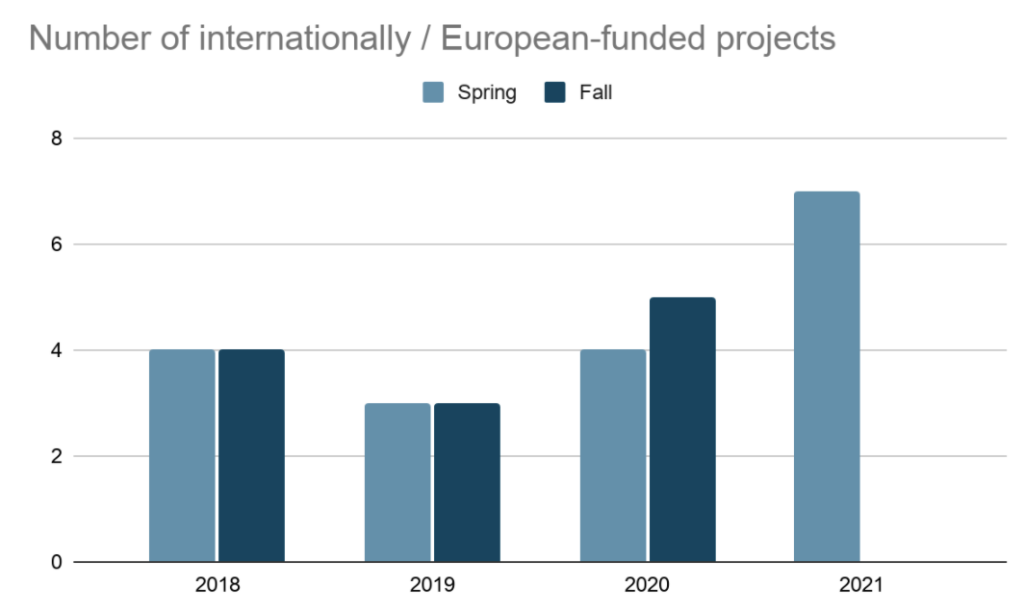 Internationally funded and implemented projects of Visio have more than doubled since 2019. Now, in the first half of 2021, the educational centre and the think tank together have 7 active international / European projects, five of which are implemented in close collaboration with international partners. Two of these projects get funding from the Erasmus+ funding instrument, and four via GEF (Green European Foundation). During the second half of the year, the number of international projects may still increase.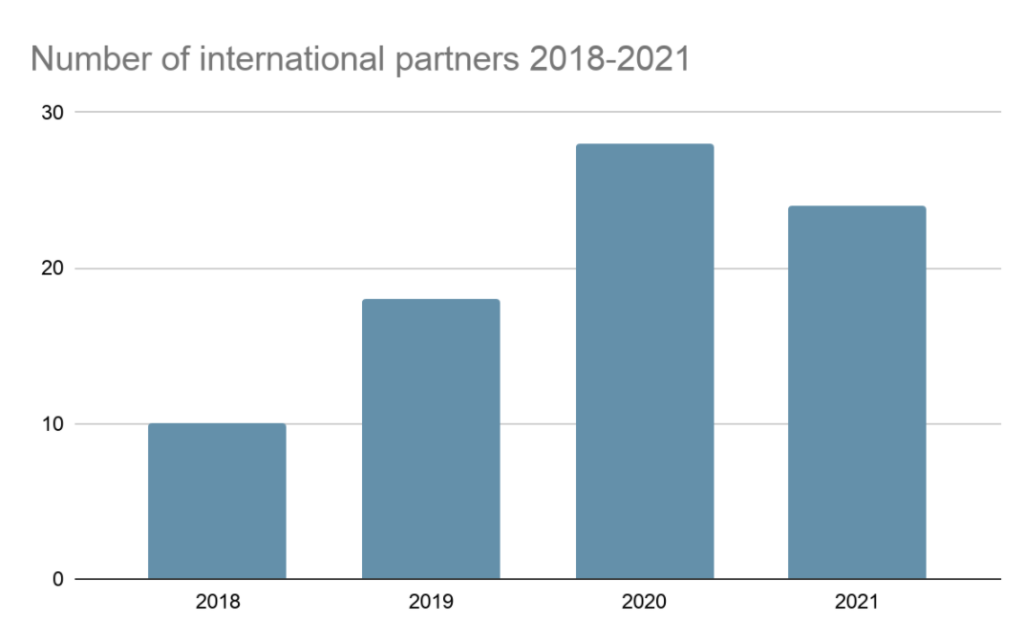 Compared to 2018, Visio has more than doubled the number of international project partners. In 2019 and 2020 we were involved, as a supporting partner, in a Nordplus-funded networking project with 14 international partners, hence the high numbers of partners in those years: however we did not create any concrete activities or outputs with these 14 partners, as we do with the partners of our current projects; all the partners counted for 2021 are such that we work closely together towards the same goals and outputs.

Also worth noting is, that in addition to the project partners who are co-funded from the same projects as we, we have also worked together with people from numerous other organisations around the world, regarding, for example, our educational events: we have had guest experts from as far as US and Mali, not to mention many European countries and organisations.

The European map here shows where our projects partners in 2021 are from. The green pins show the partners which are part of the European green family (our partners in GEF projects) and the grey ones are other partners: other educational and cultural centres, institutions and NGOs.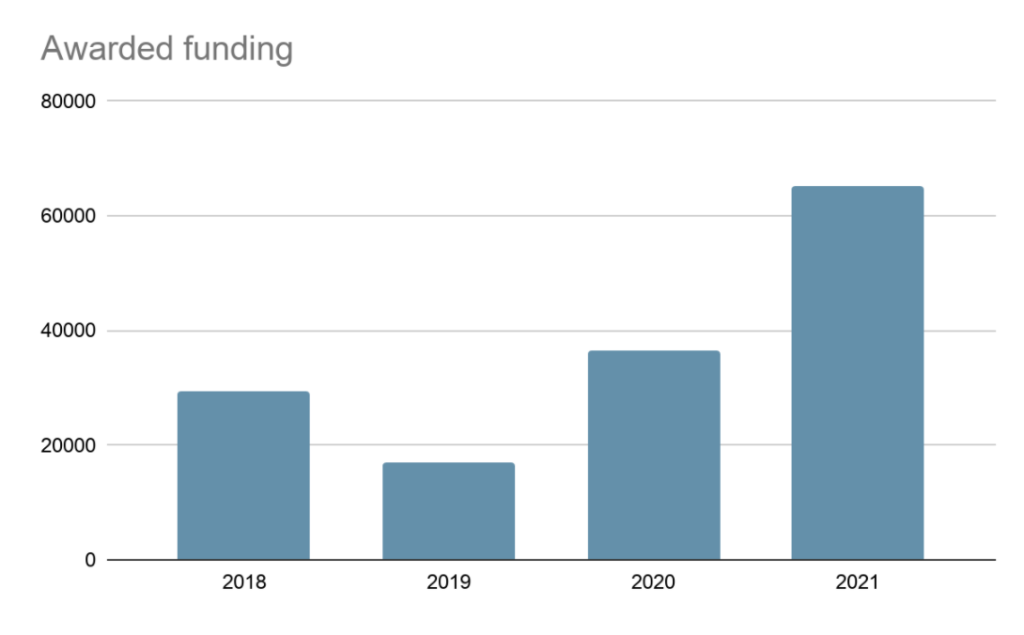 In terms of funding originated from outside Finland, we have witnessed significant growth, too. Compared to 2018 we have more than doubled the amount of international funding on a yearly level, and compared to 2019 more than tripled! This graph is based on the awarded funding, thus, it does not tell the amount of actual funding; what we have actually spent at the end of the project. In regards of multi-annual projects, the whole grant is divided between the months, and then multiplied with the amount of months that the project is active in each year.

---
Additional information about the current projects – we also warmly welcome requests for future collaboration:
Educational Centre: Adele Halttunen / project coordinator
adele.halttunen(a)opintokeskusvisio.fi
Think Tank: Simo Raittila, coordinator
simo.raittila(a)ajatuspajavisio.fi